Meet the Quill
Effortlessly create perfect ADA braille with our innovative slide-on engraver accessory
10X
FASTER PRODUCTION
No more "drill-and-fill" braille means 10x the speed and ease for production.
1000%
SIMPLER
Quickly snap Quill on to your router/engraver and master it within 5 mins.
3
PATENTS
The Quill is packed with innovative new technologies engineered for instant ADA braille.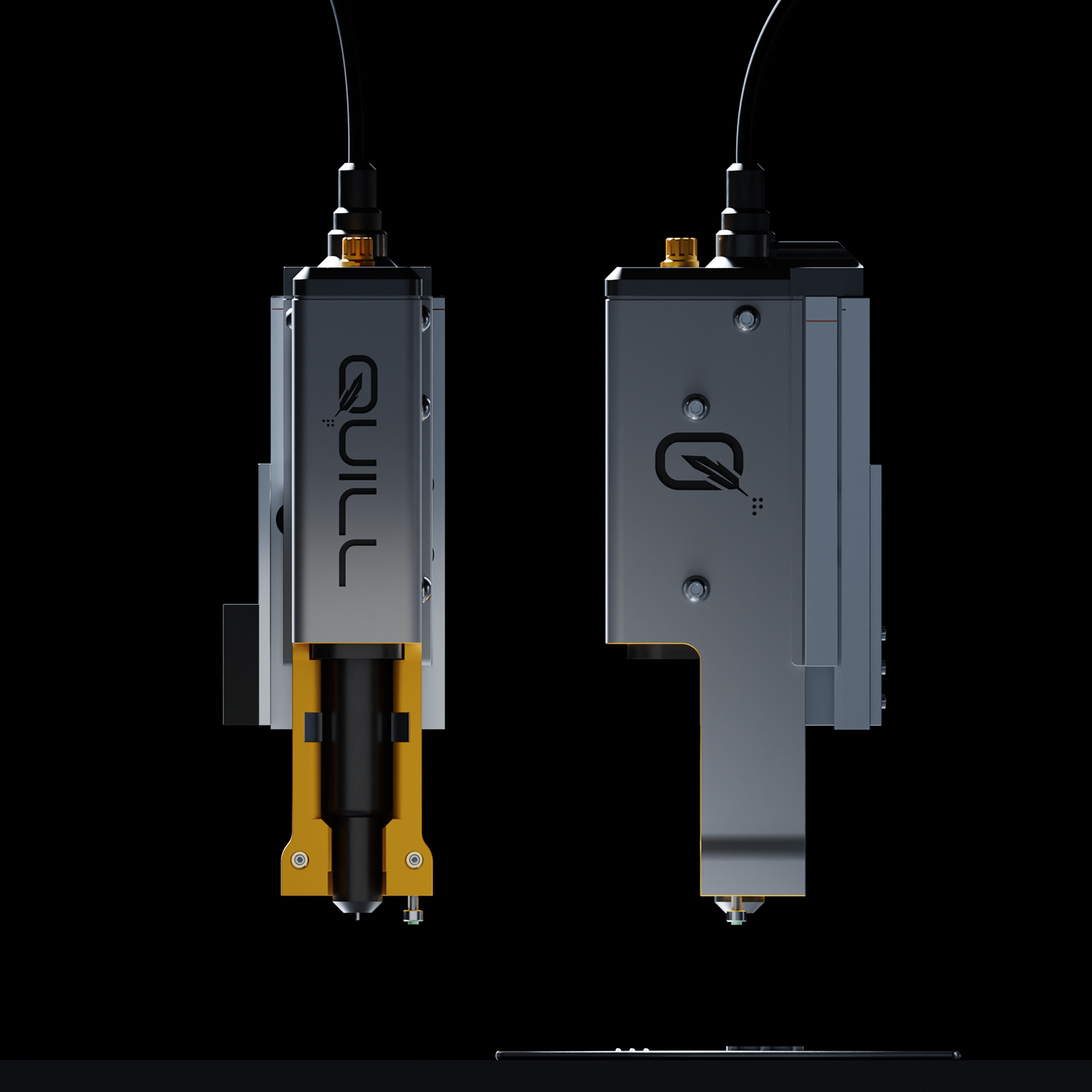 Your new secret weapon for perfect ADA braille in seconds.
⚡️ Snaps on to your engraver or CNC
👌 Prints perfect resin ADA dots in seconds
✨ Each swappable cartridge = 5k+ dots
💪 Battle-tested for single + massive sign jobs
Goodbye Raster, Hello Resin
See It In Action
Fast. Perfect. Effortless.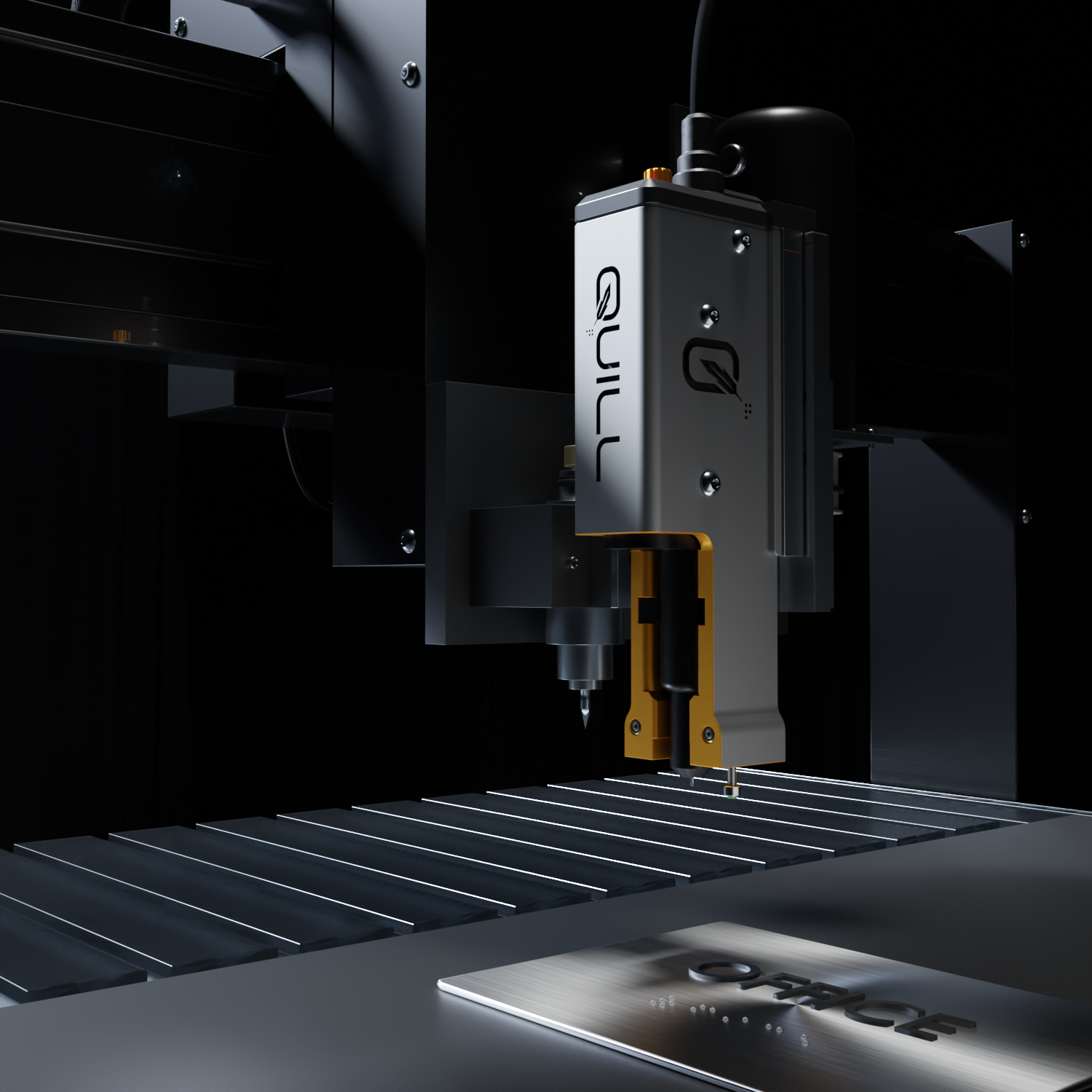 Simple. Fast. Dummy-Proof.
You can just mount the provided bracket on your engraver or CNC, slide the Quill on and simply use your existing software.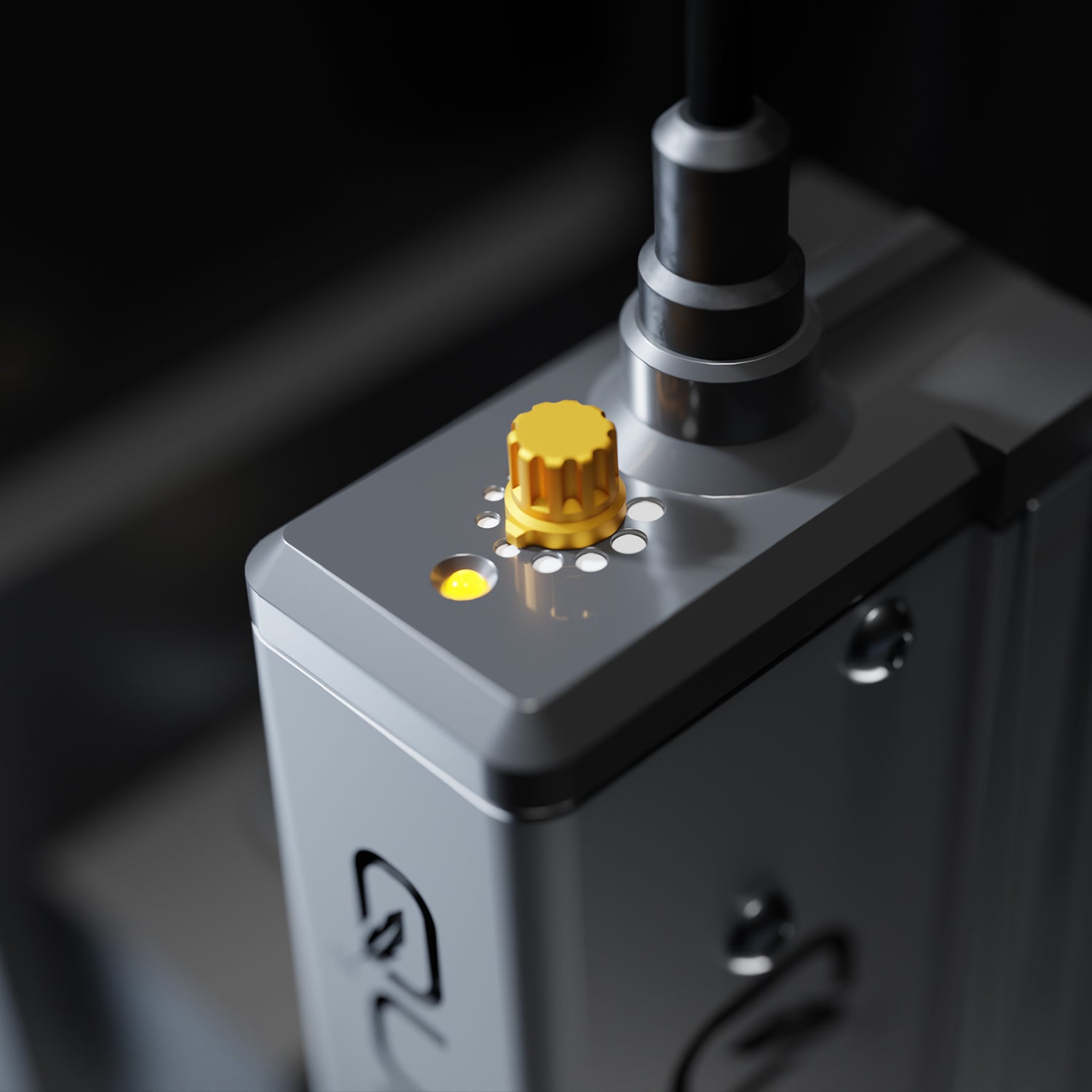 Dial-in Perfect Braille, Every Time
The power of resin dots means if you make a mistake, just wipe off the beads and print again. Cures in seconds with our provided UV flashlight.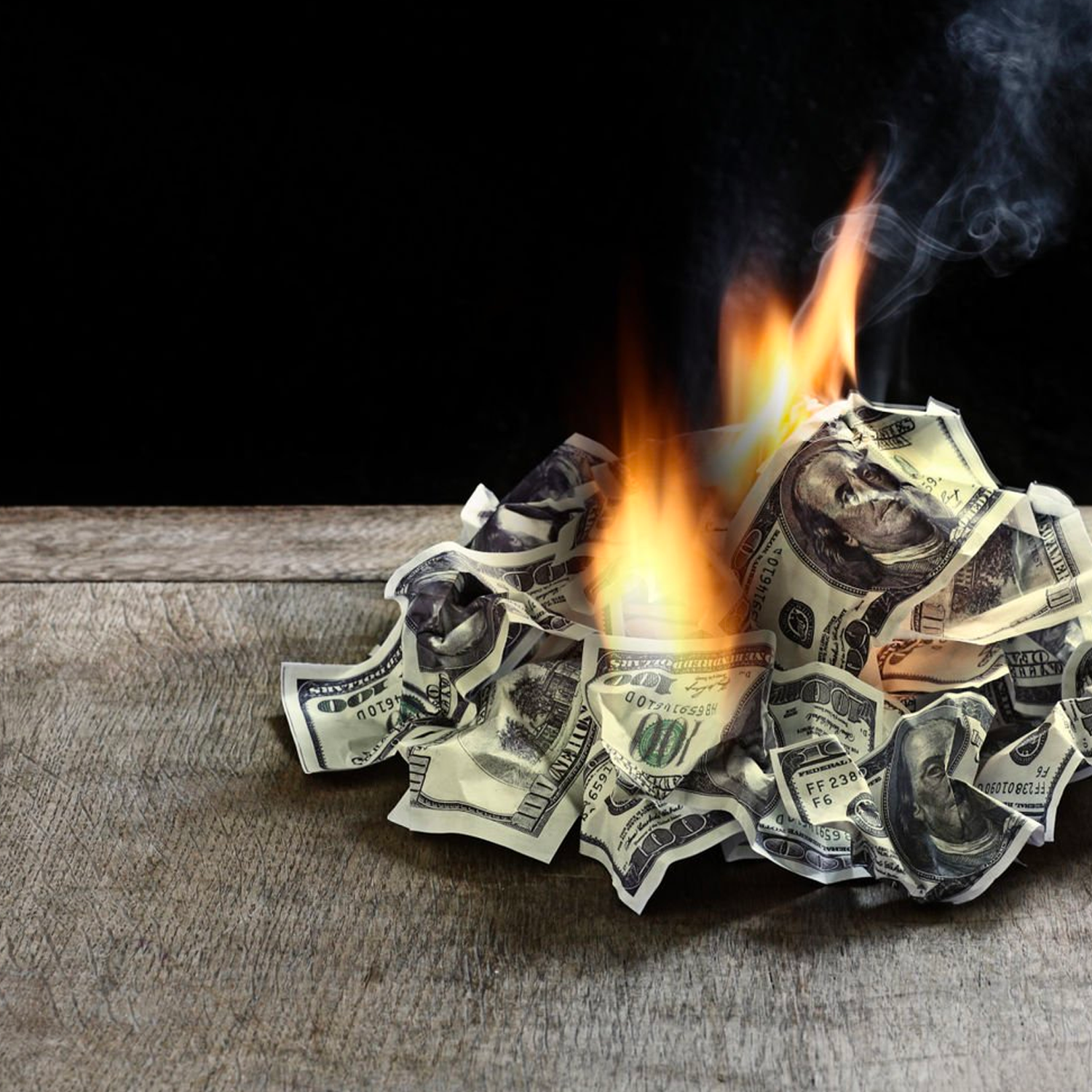 Increase Your Profits. Stop outsourcing.
You are leaving significant money on the table - with a Quill, you can significantly grow your braille sign job profit margin.
I'll never worry about ruining a braille job again.
Introducing: Quill Resin Cartridges
Just Snap In and Go. The Easiest, Quickest and Affordable Way to Perfect Braille.
5,000+ Dots per Cartridge.
Each Quill Resin cartridge can produce 5,000+ braille dots that harden into acryllic strength instantly with our UV flashlight.
Instantly Cures When You Want It To.
Using the provided UV flashlight, instantly cure the resin dots when you are ready.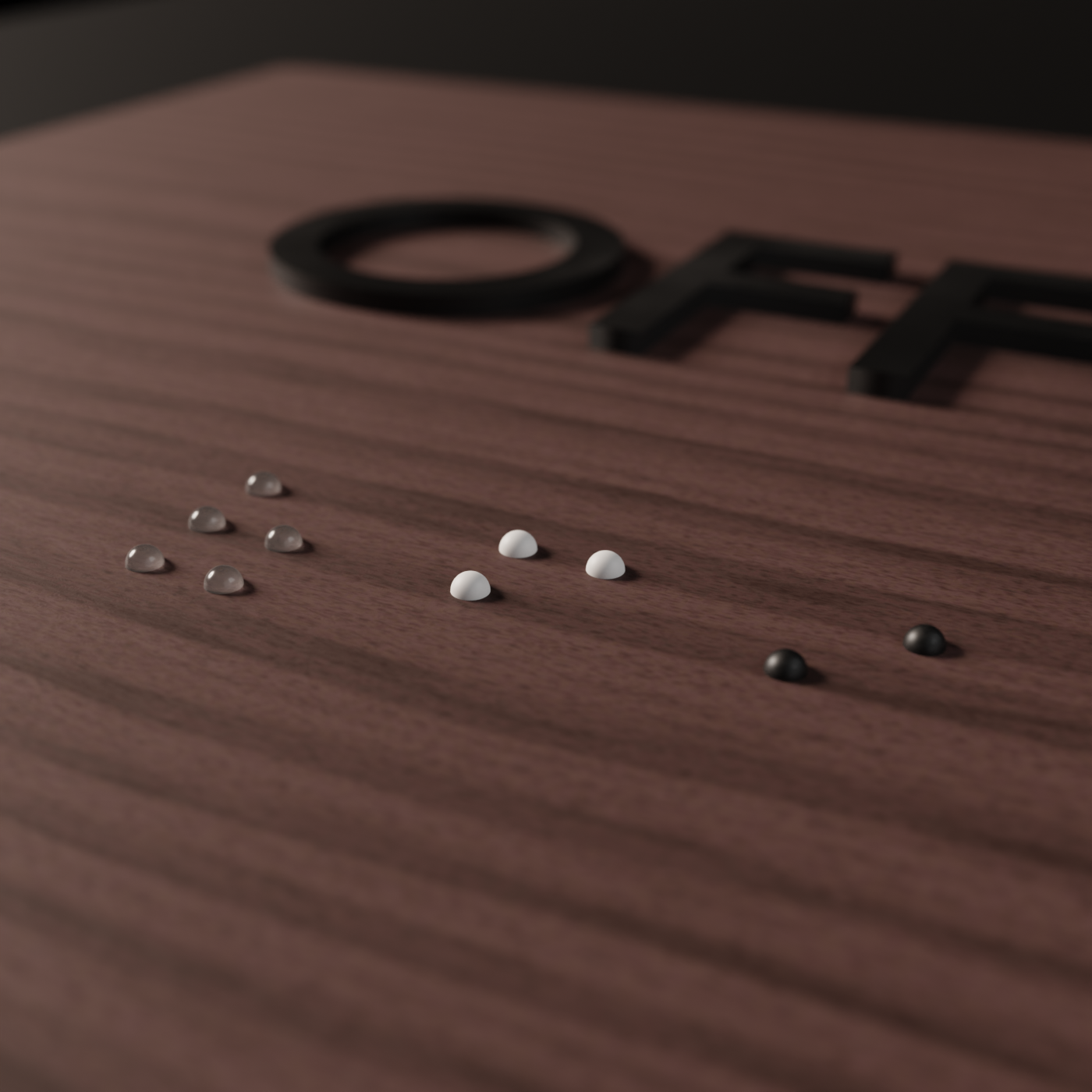 Available in Clear, White, Black and Custom.
Our cartridges are available in clear, black and white colors. Custom colors are also available by special request.
Crafted For Precision
The multi-patented Quill printer is precision engineered with the latest in manufacturing technologies to deliver a superior product each time.
Contact Us for Custom Mounts
Compatible with:
The most popular range of engravers and CNC. Custom mounts also available.
Dimensions:
H: 7.07" (179.47mm) x W: 1.61" (41mm) x D: 2.83" (71.91mm)
Warranty:
30 Day Money-Back Guarantee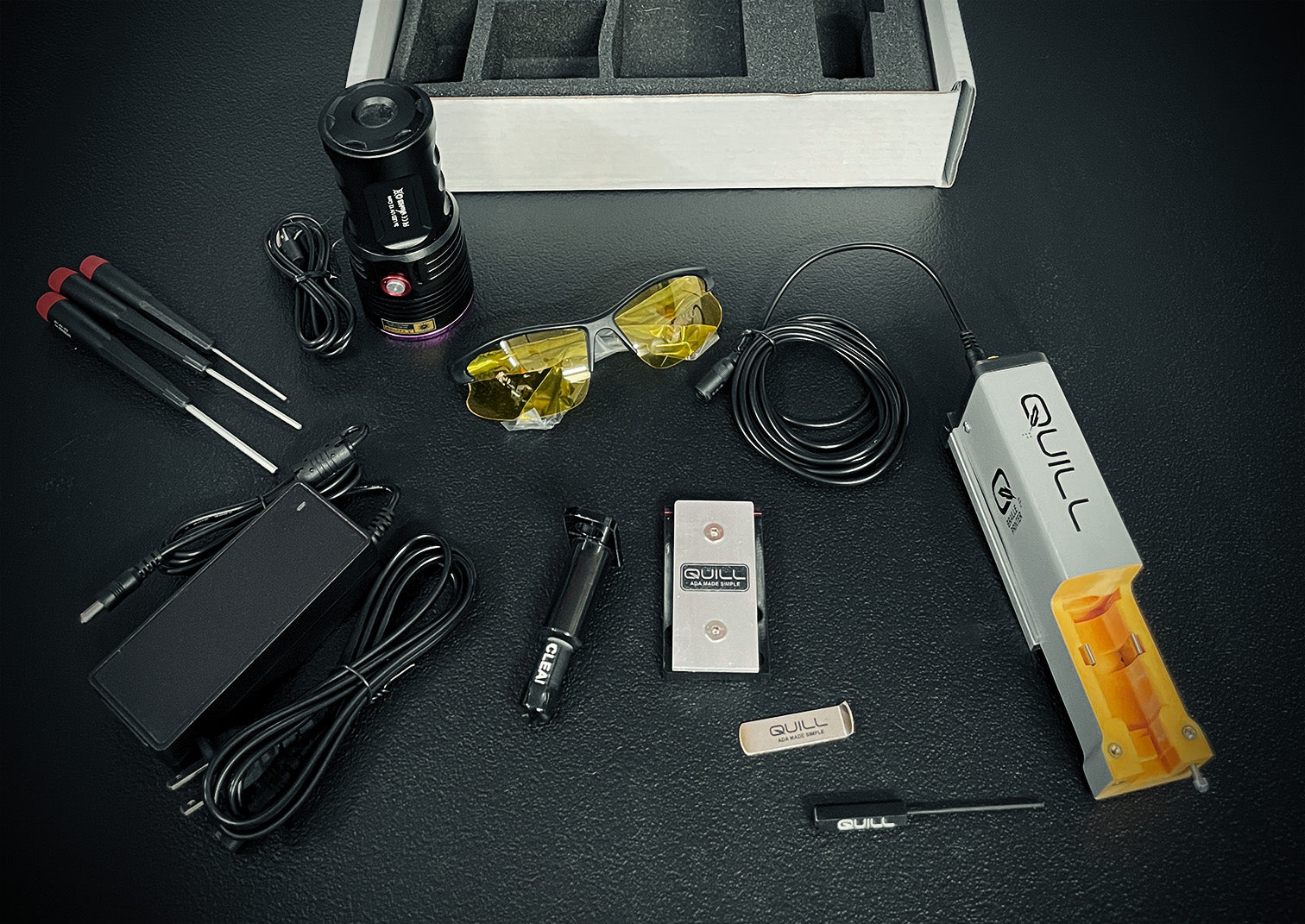 What's Included
Quill Braille Printer
Mounting plate for engraver / CNC machine
Quill Resin Cartridge (1x) - Approx 5k+ dots - Clear
High-power UV Curing Flashlight (Rechargable)
Clearance gauge with Allen key
Additional installation tools
Power Adapter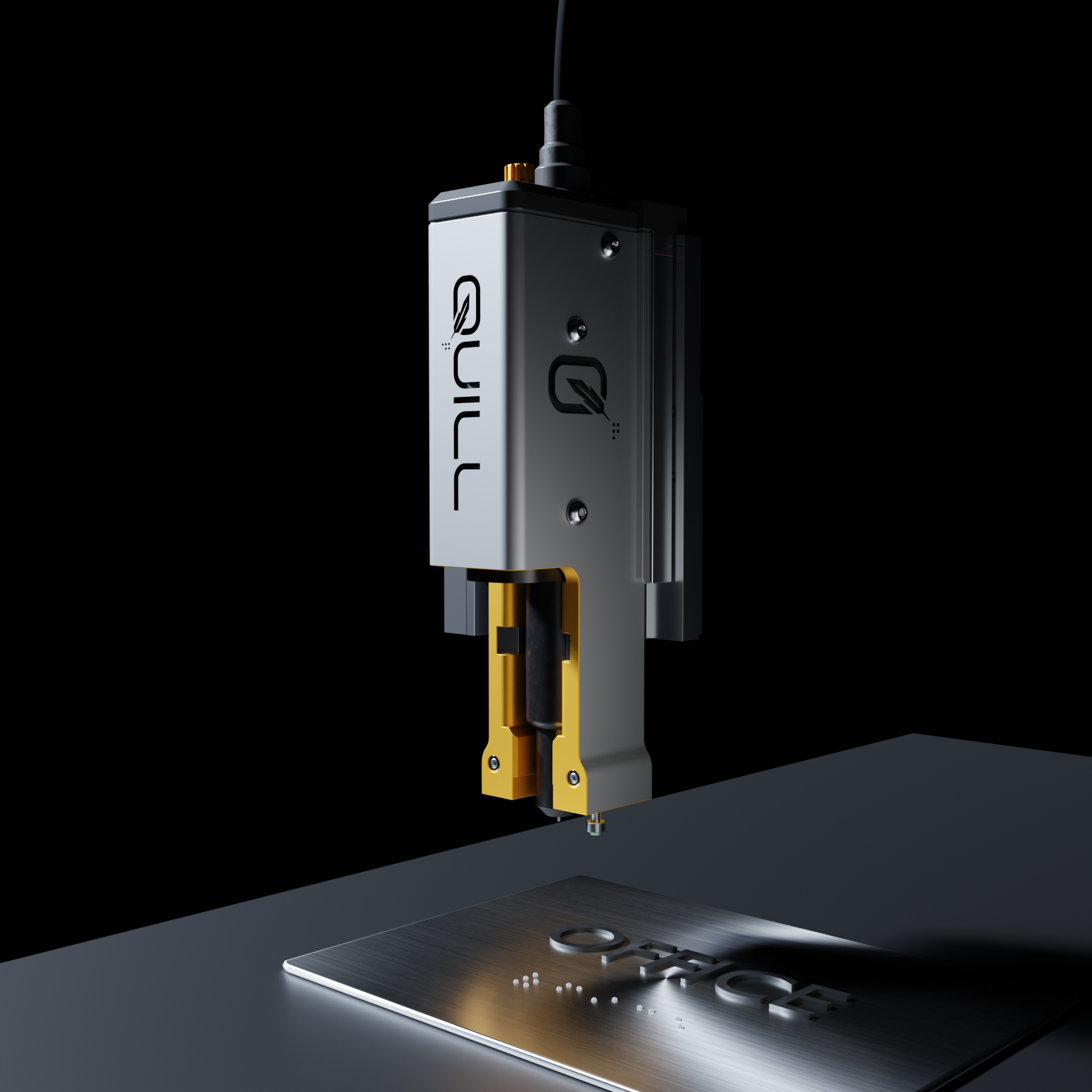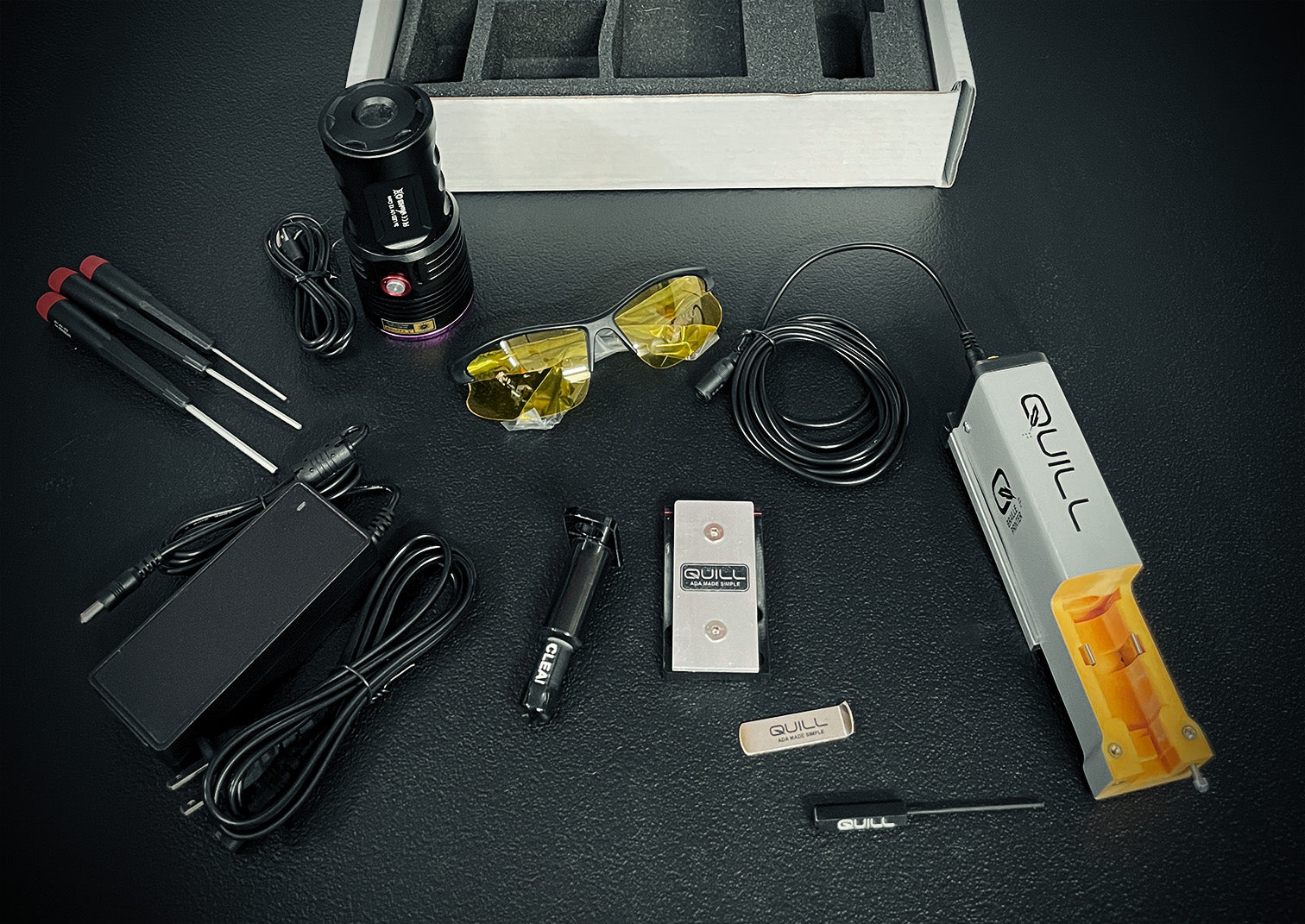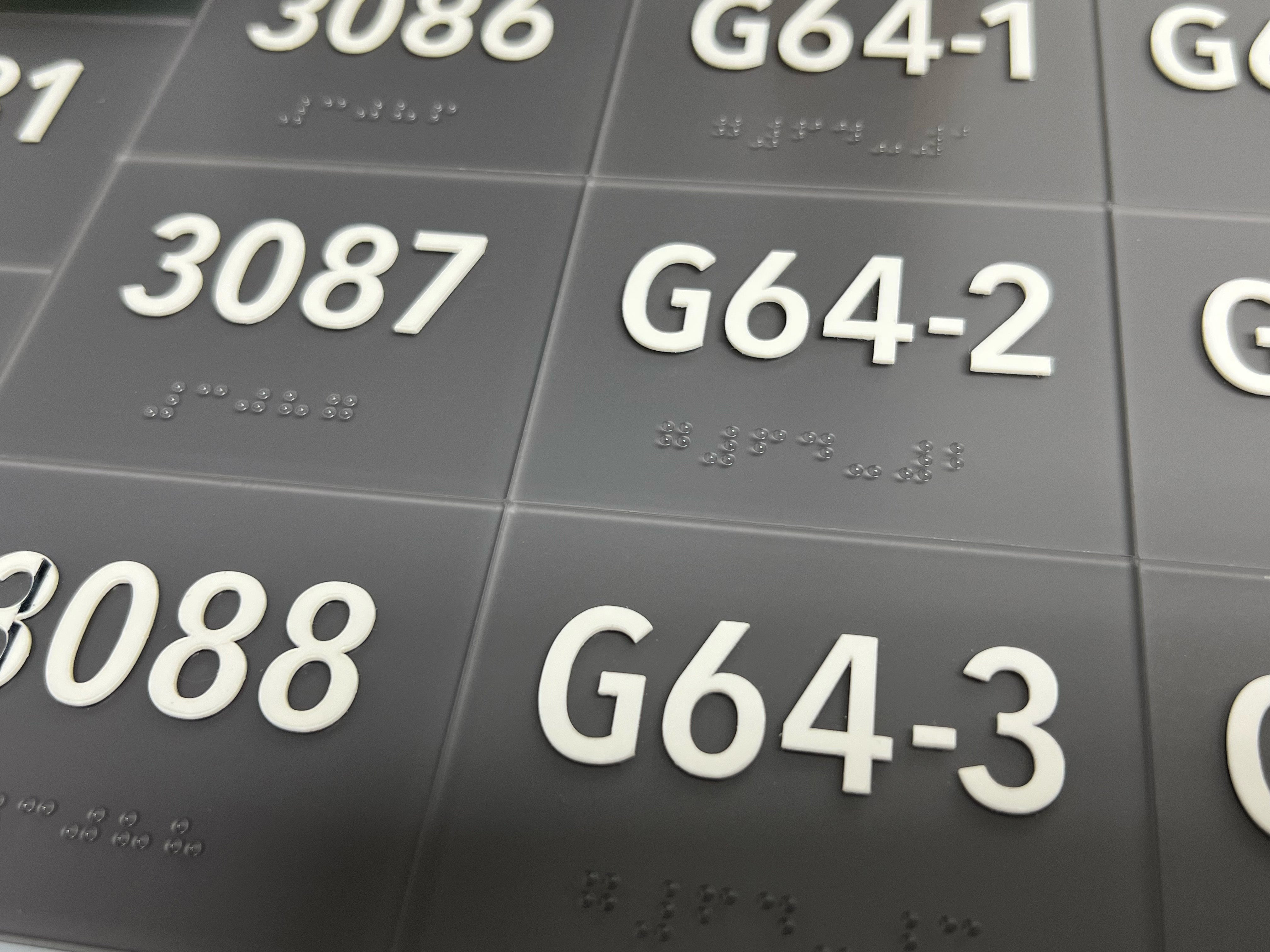 ---
The Quill ADA resin printer accessory is the easiest, quickest, and most affordable way to provide perfect ADA-compliant braille.

____
What's Included:
- Quill Braille Printer
- Mounting plate for the engraver / CNC machine
- (1x) Quill Resin Cartridge - Approx 5k+ dots - Clear Color (Disposable)
- High-power UV Curing Flashlight (Rechargable)
- Clearance gauge with allen key
- Additional installation tools
- Power Adapter

- 1 Year Warranty 
👉 Due to Current High Demand, Quill printer orders are shipped out 2-3 weeks from order. 
FAQ
We are frequently updating this section otherwise please check our Support section above for more detailed help.
Which engravers / CNC are currently supported?

We are rapidly expanding our supported engravers / CNC - if we don't have it, we have a universal mount.
How long will it take to get my orders?

Currently due to high demand, orders are shipping 2-3 weeks after order. We will return to 5-7 business days after increasing capacity. Delivery details will be provided in your confirmation email.
You can contact us through our contact page! We will be happy to assist you.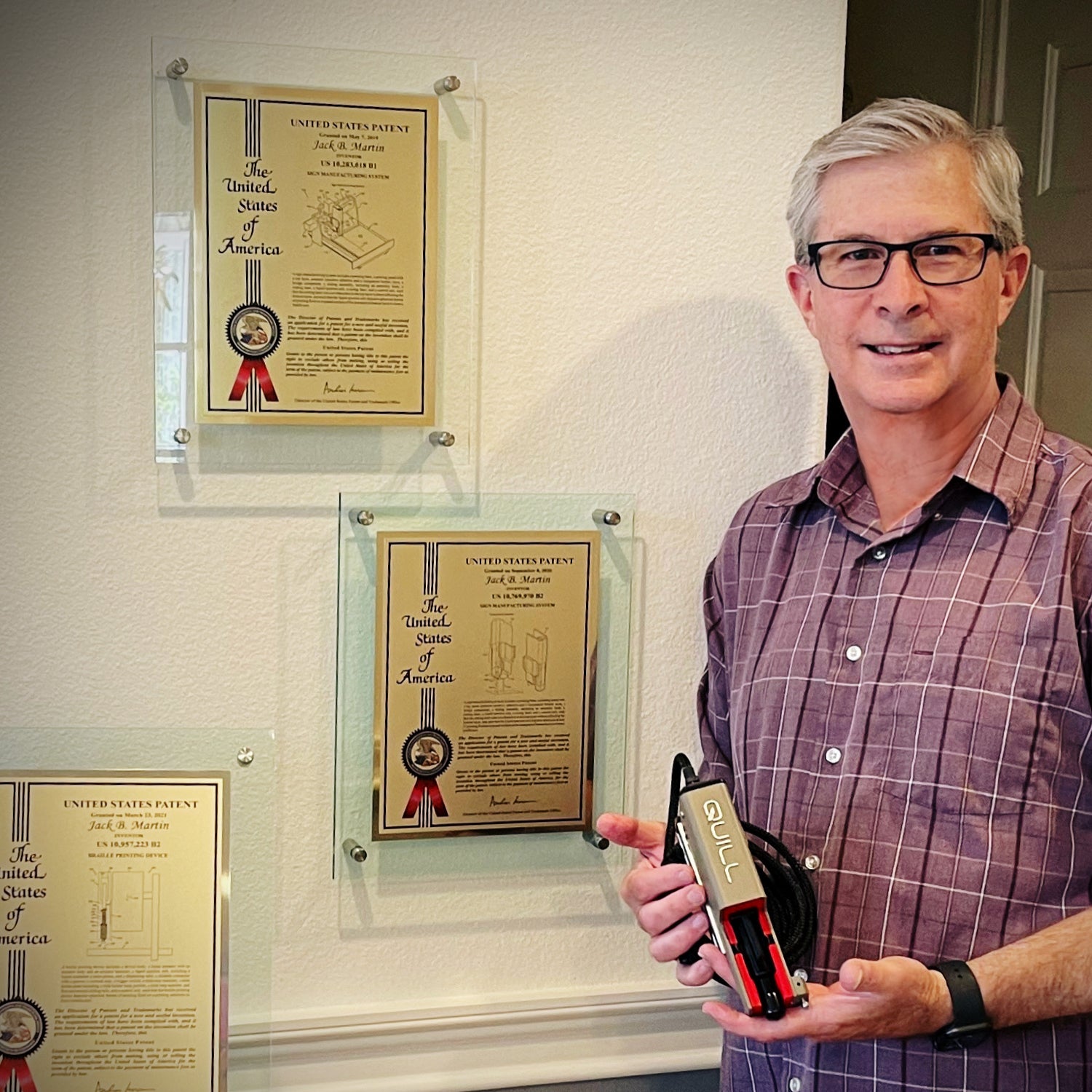 👋 Hi. I'm Jack.
As an inventor and signmaker with over 23+ years of experience, I've always been frustrated with the time-consuming and complicated process of creating Braille ADA signs. That's why I founded Quill ADA and dedicated the past five years to inventing a truly new solution. My 3x patented technology dramatically simplifies the process, making it faster and more efficient for businesses to deliver a more accessible world for the vision impaired.
About Us